Electorate matters in the last days of Jacinda Ardern as our local MP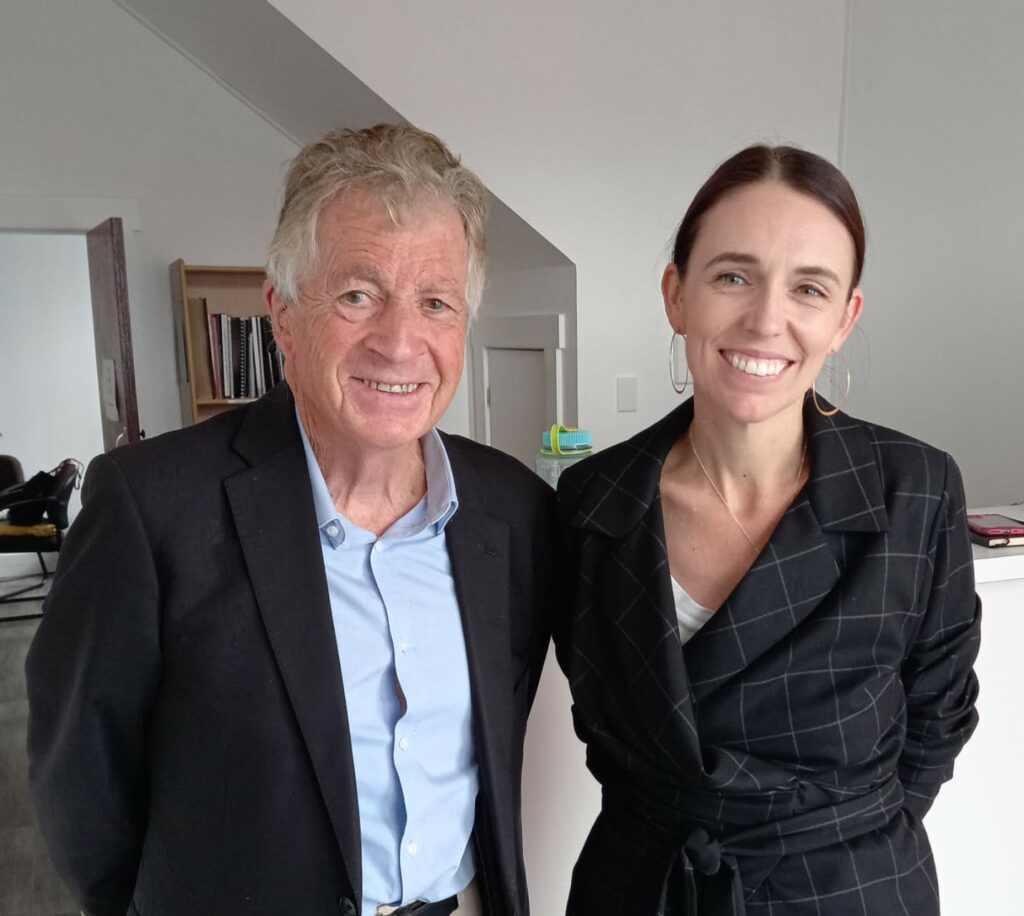 On St Patricks Day I was invited by local MP Jacinda Ardern to share a briefing from Auckland Council's 'Healthy Waters' officers on how they are planning to respond to the impacts of the anniversary weekend storm. Jacinda and I both represent residents in the area below Grey Lynn Park where a number of houses were so badly damaged by the flood that they've been red stickered. Healthy Waters is likely to recommend to the council a managed retreat from this flood prone area. By the time you read this, affected residents will have received their own briefing with a lot more detail than I can provide here. A question which Jacinda raised is why would one department of council be supporting a managed retreat while another is still considering an application for an intensive housing development downstream in the same catchment, namely Sackville Street? Local residents who witnessed just how badly the area flooded in late January have been objecting to this development. In support of them I told the NZ Herald that it 'beggars belief' that the council was still considering the application given what so recently happened here.
It was great to meet with Jacinda again. She looked very well, much more relaxed than in the last few months of her premiership. Transitioning from dealing with national and international problems she showed an impressive focus on the technicalities of the briefing. We briefly reminisced about the time when as a new MP she came to my office in 2010 when I was the chairman of the ARC to make a plea for saving Queens Wharf's Shed 10. Despite long-standing plans for a new cruise terminal on the site, I came to the conclusion that she was right and so we changed the plans and instead made a refurbished Shed 10 the new cruise ship terminal – and saved a lot of money. I felt rather sad that after reconnecting with her after all these years, she will soon be gone again, onto the next stage of her remarkable career.
Another issue which has been taking up an enormous amount of time is AT's $100m plus 'Inner-West Road Improvements (Cycleway)' project. For some years now, ever since AT's West Lynn cycleway debacle, heavily engineered, retro-fitted cycleways have become a polarising issue in this ward. Part of the reason why I was elected I feel, was that people had become fed up with this ongoing 'culture war' with cycling advocates, led by Bike Auckland on the one side and other members of the community, including some cyclists, on the other. The project is in three components, Pt Chevalier – Westmere, Grey Lynn (Grey Lynn 'Safer Routes') and Great North Road. Waka Kotahi/NZTA is refusing to fund the Grey Lynn 'Safer Routes' presumably because of the huge amount of money wasted on West Lynn the first-time round. This leaves Point Chev and Great North Road. To try to take the heat out of the argument, in the spirit of compromise, I agreed to support the Point Chev-Westmere component which is reasonably well designed – but not Great North Road. Unfortunately, the cycleway lobby and AT's integrated Network managers are in no mood for compromise – they are going for broke. Consequently, along with the local community, the Waitematā Local Board is divided on the issue 4-3. The AT Board is also split, as are AT staff. So divisive has the issue become that in an unprecedented move the AT board resolved to ask Auckland Council's Transport & Infrastructure committee for its view. I was impressed with members of the public who subsequently presented to the committee on this issue. Especially active cyclist Chris Delautour whose critical comments of the cost, design and even safety of AT's cycleways were compelling because she so clearly knew what she was talking about. Incidentally Chris has just completed the gruelling 100km cycle event, Le Race from Christchurch to Akaroa. Darryl Ojala, a 40-year local resident and business leader was also impressive. Resisting a great deal of pressure Darryl stuck to his independent stance and quietly but forcefully made his case against AT's plans for Great North Road which he believes will have a major disruptive impact on this vital arterial route and destroy car parking vital for small businesses. He also believes this will inevitably have a destructive impact on the Grey Lynn shopping centre which he called 'My village'. He believes there are better routes for a cycleway and a better way to build it.
The Transport & Infrastructure committee will come to a position and advise the AT Board in April. The cost of this $18,000 per metre cycleway project is especially questionable right now given the council's serious financial crisis. This now looks like becoming a political crisis given council management's attempts to impose an austerity budget on Aucklanders, along with a controversial $2b sale of ratepayer-owned airport shares – while resisting providing elected members with the full financial information we need to make an informed decision. More about this next month. In the meantime make sure you get your submissions in – even if they are a few days late.